My, my, my. Wouldn't the world be a much duller place without the people of Italy?
This morning's television comprised of a soap opera in which the central storyline revolved around a brother and sister having intimate relations. When I say intimate, I mean intimate for 11AM. The whole experience was made uncomfortable by the fact that the woman was horrendously good looking but was engaged in a sexual act with her brother. It was very much an "ah yes!, ah no!" situation. The bloodflow to a man's penis has never been so frantically confused.
The next show up (which is on now) is a sort of Trisha. Naturally, the Italians don't enjoy patronising their toothless simpletons directly and instead patronise them by means of exclusion from their television 'chat shows'. It's clear that one needs to go through the whole casting process merely to sit amonst the audience. Temporarily revelling in blissful superficiality has never been so much fun.
After romping through chapter one of my Italian lessons, we were sat like expectant dogs on the doormat to psyche Lore through a fingerboard/campus workout. I'm impressed with his setup and his idea of attaching a set of fishing scales and sling for gauging the exact amount of force being applied for assisted one arm deadhangs.
Allora, some images.
A light flex for you readers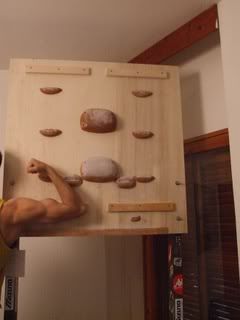 A gentle swan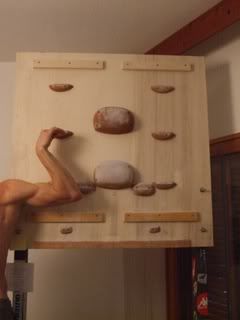 A slopey caress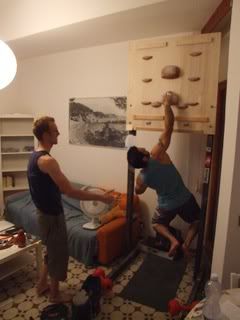 Fuck, all this Italian has turned me into a soppy specimen. Tonight, I hear surfing, dining and apertivo's are on the menu.